DACA recipients meet critical deadline to avoid deportation as program winds down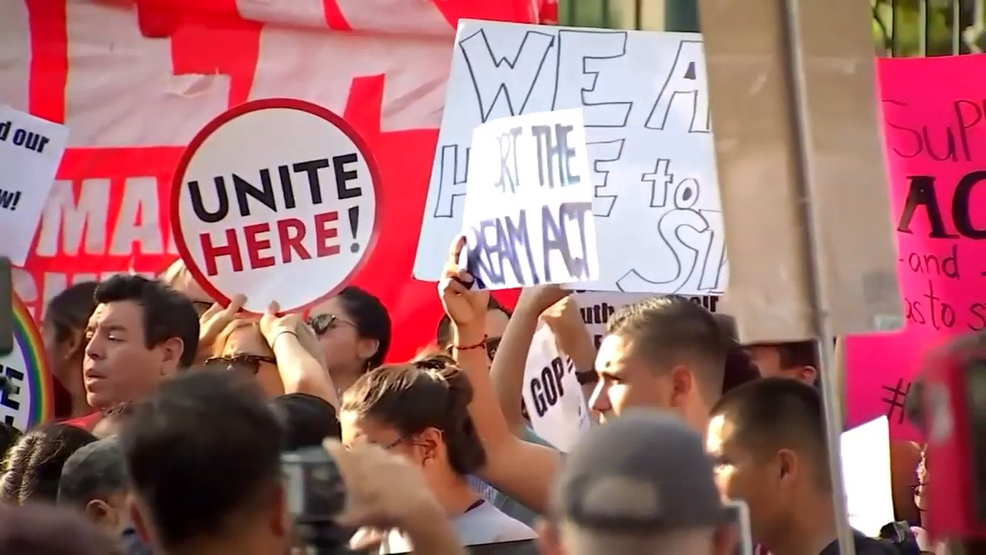 SEATTLE -- Thousands of so-called "Dreamers" had to meet a critical deadline Thursday to avoid deportation.
The Dreamers had to submit an application to renew their work permit and immigration status as part of the "Deferred Action for Childhood Arrivals" or DACA program.

Last month, President Trump announced plans to end DACA on March 5, unless Congress acts.
Nationwide, there are about 800,000 DACA recipients including 18,000 in Washington state.
Dreamer and University of Washington graduate Faride Cuevas has lived in the United States since she was nine years old. She said Thursday's DACA deadline came as a big wake-up call.
Cuevas, 24, said she barely got her renewal application in on time and that the month-window was an unrealistic deadline.
"It's frightening," she said.
Cuevas said the deadline set up a lot of people to fail from the beginning.
"There's a lot of people who needed more legal help to do the application. It takes a while to collect all the information. You need to fill out those forms. It takes a while to get the funding --which was $495. It wasn't an easy task to take on with the timeline they gave us to do so," Cuevas said.
Immigrant advocates and attorneys said the deadline has made many people very anxious.
"This deadline was very arbitrary. It was just set by the administration," said Roxana Norouzi, the education director of OneAmerica. "It is putting thousands of people across the country, and in our state and city into a precarious status where they won't have access to a work permit--which has allowed many of our undocumented youth some level of stability and normality and security here in this country, working having jobs, staying employed and also having protection from deportation."
Matt Adams, legal director of Northwest Immigrant Rights Project, said that Thursday was the difference for many on whether they would continue to move forward in their community here, or if their lives are about to change dramatically.
"Today is the deadline where immigration has to have received the application from thousands of people. (Otherwise) they are going to lose their authorization working, to have access to driver's license, for some-- to be able to go to school," Adams said.
For weeks, the NWIRP has been holding various community workshops at several companies and in their own office, according to Adams.
"Our office --over the last week-- we've been allowing walk-in clients to come in and get that last-minute question answered," he said.
The application to renew a two-year work permit means DACA recipients likely only get to stay in the U.S. for another two years.
"People my age are thinking about a 10-year plan about their future. I'm thinking about my two-year plan and 'am I going to be deported back to Mexico, a country I don't know?'" Cuevas said.
Cuevas said she's doing her best to live a normal life. "But, in the back of my head, I'm thinking 'Is this going to be the last day? Is this going to be the last week, is this going to be the last month or year?"
"Over the past few weeks there's been a lot of desperation by many people to get their application in. This is the first step. The next step is where this is going to lead to," Adams said.
Right now, the president is not offering Dreamers amnesty. Instead, he demands that Congress be the one to act before DACA expires March 5.
Most Republicans want future immigration bills to include tougher border security.
"Any potential deal on DACA has to include robust border security, and by that, I don't mean a wall," said Senator Chuck Grassley (R-Iowa).
Immigrant advocates said there needs to be a better answer for immigration reform and for DACA recipients.
Cuevas's two younger sisters are both college students and DACA recipients. They just applied to renew their immigration status. As for Cuevas…
"Just the fact that I can't make my 10 year plan here, to me it's just heartbreaking," Cuevas said.
There is help for DACA recipients who weren't able to renew by Thursday's deadline. They can turn to the Seattle-King County Immigrant Legal Defense Network for services.
Unmute